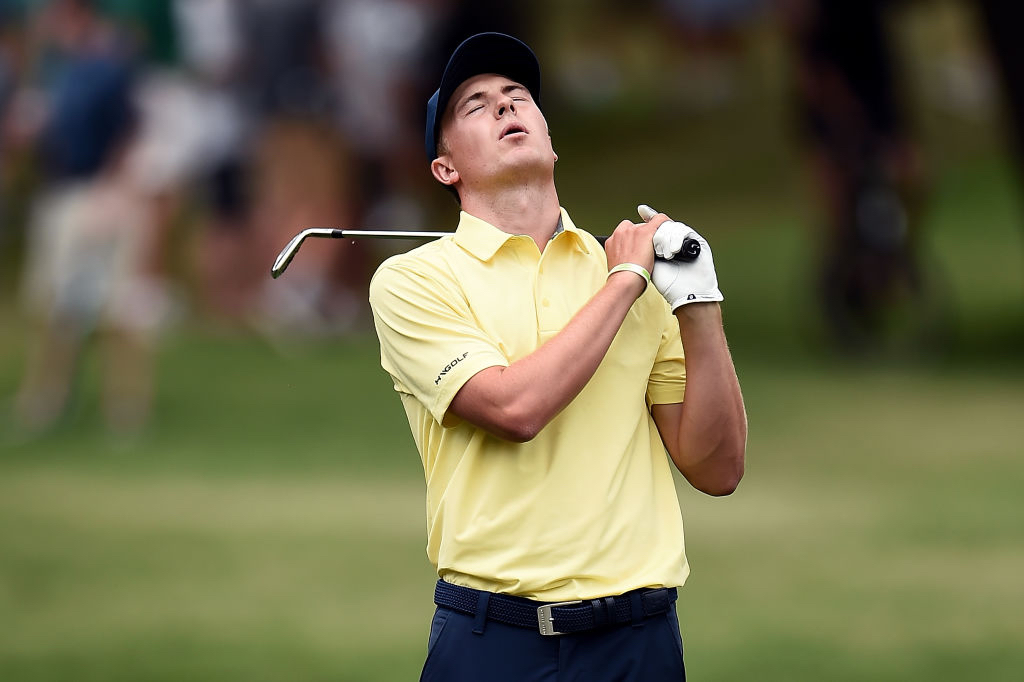 The question most people in the golf world are wondering, where is Jordan Spieth and what did the aliens do with him? It almost seems out of the Space Jam movie when the aliens capture the NBA stars bodies and take their talents. The last time he won was the 2017 British Open at Royal Birkdale, 2 1/2 years ago. Okay that's fine, but in his last 5 starts his best finish was 16th, and that was in a field of 18.
The Game
Nothing seems to be there right now, putting, driver, irons. The only good thing I see him do is his wedges up and around the greens. Trust me I am not overreacting to this season yet, because it is a small portion size, but it has not looked good. This is becoming the third season in which he could go winless, not just that, though, he has fallen out of the top 50 in the world. Ow, that is unacceptable. Even in Jordan's off weeks from 2013-2017 he was contending for top 10's and tournament wins. How could a man fall so low so quick? It's not like there were injuries. It seems he went for distance, but it has never been stated. Jordan in pressers continues to say he is not worried and that he is on the rebound. Well, where are the results? We need honesty here, and I am not sure he even believes what he is saying.
The Coach
Jordan's long time coach Cam McCormick has been with him over a decade. They have trust and friendship. Cam is the man that might have helped Jordan get where he is today, but you cannot allow a world talent star and prodigy like Jordan to waste years like he has. This was a kid on the way of chasing 40 career wins, maybe more, and now we're wondering if 20 is a longshot. Something has got to go positive for me to believe Cam is the guy moving forward. I mean how long does it take to improve swing mechanics that just a few short years ago were top in the world. Like I said, I really don't know what is going wrong but I have not seen anything recently to say, "Stick with Cam."
Peer Pressure

As you see peers and friends pass you up like Justin Thomas in wins and Brooks Koepka in majors, the pressure mounts. Jordan has been seeing these guys capture win after win these past couple seasons while he has been doing nothing. Maybe the pressure of friends and peers doing well has made him think too much and put too much pressure on himself. As of now though, these guys are on the pace to continue to distance themselves from Jordan.
Demons
Yes, Jordan may have won The British Open at Birkdale when his driver went 500 yards right and his recovery those next few holes was one for the ages, but did he lose confidence after it? He almost blew another major, and I have to think that was in his head. Why did he have to make it so hard? I certainly do not think 16 at Augusta will ever leave his mind, as it has not left any of ours, but can he recover from it? He has had 4 wins since that disaster but something tells me it has haunted him.
Conclusion
I might have been hard on Jordan here, but we expect tremendous things out of this guy. He won 3 legs of the grand slam at 23 years old — that is unheard of. I get it he had high expectations because of what he did early on, but that is what you ask for when you are that good that young; we hold him to high standards. I do expect Jordan to recover, but I don't know when. He claimed him and Cam were working on something with his grip that should be ready by Augusta, so we will see by then how he has adjusted. Jordan is too smart, too talented, too hungry to be gone forever, but these are critical years and he needs to find himself soon. Oh Jordan Where Art Thou…Wake up!