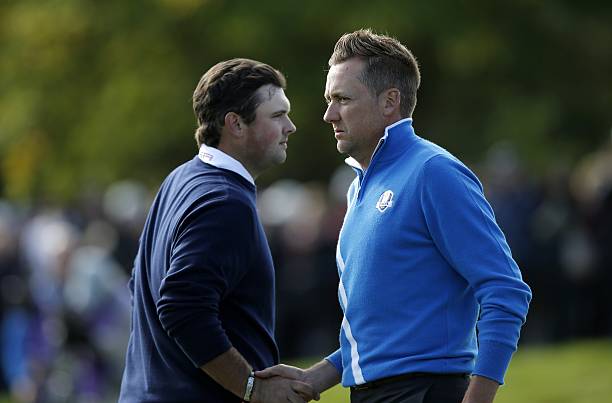 The Ryder Cup as we all know comes down to Sunday Singles, and we have watched some incredible matchups in the past, from Rory vs. Reed to Phil vs. Serg and many more. This Ryder Cup has the potential for some of the best matchups we have ever viewed. If you are like us, you are licking your chops to see what potential matchups could happen and how it could close out.
Patrick Reed vs. Ian Poulter: "Man in The Mirror" – Pure fire right here. Patrick Reed is the villain in Europe now. Captain America always seems to love playing with a crowd against him, and he has that unique edge to him that makes him rise to the occasion. With Ian Poulter it is almost like looking into a mirror. If you think you saw fireworks at Hazeltine just wait for this match up because I can guarantee you one thing there will be no fist bumps after made putts, but there will be in-your-face celebrations.
Tiger vs. Poulter: "42" – Ian Poulter one time said it was going to be him and Tiger for years to come as the two best in the world. Well he certainly did not make that prophecy come true. They have had almost opposite Ryder Cup experiences, Tiger arguably the greatest golfer ever has a losing record at The Ryder Cup, while Poulter has only 3 PGA Tour victories in his career, but at the Ryder he is 12-4-2. These two have had a mini rivalry for years and as they both are reaching older ages, it would be fantastic to see them finally square off.
Justin Thomas vs. Jon Rahm: "Fire and Rain" – The future possibly of both teams, with Justin being 25 and Jon Rahm 23, it could be the start of a rivalry. These two guys are extremely competitive, extremely vocal and flashy, and they would be pure entertainment. I would love to see the crowds gather around these two battling. Although there could be a couple clubs broken, we would expect to see a lot of birdies and loud celebrations from these two.
Patrick Reed vs Rory McIlroy: "Round 2" – Anyone who watched this said it was the best Ryder Cup match they have ever seen, and that was because we got to see guys trash talk each other in a sport where we never get that. It was almost like a basketball game with two superstars going at one another with everything they have. Unfortunately, after the fist bump on 8 the match was never the same. It was something as fans we hope to see on 18, but not in the middle of a bloody match.
Jordan Spieth vs. Rory: "Chase for the Slam" – It does not matter what form either of these guys are in, they have the two best resumes out of all the young players. Rory has 4 majors to Jordan's 3, and they are both chasing the coveted grand slam. We believe both of them will one day reach that grand slam, and to say they battled it out in a Ryder Cup would be remembered forever.