10. "The Black Knight" Gary Player – Gary gets this nod over Byron because he has 9 major championships (3 Masters, 3 British Opens, 2 PGA Championships and 1 US Open). Gary also completed the career grand slam a feat accomplished by only 5 golfers in the history of the game. The Black Knight was Jack's actual greatest rival during their careers. In the 1960's Gary finished in the top 10 a remarkable 22 times in major championships while winning 4 of those. Gary is a top 10 golfer ever because he won 9 major championships in an era where another man named Jack took 18 of those, so just like Phil imagine what Gary could have done without Jack. We may be sitting here saying he was a top 5 golfer ever but that's sports you have to play against your era and boy did Gary go up against some legends of the game!
9. "The King" Arnold Palmer – Arnie won 62 times on tour and won 7 major championships (4 Masters, 2 British Opens and 1 US Open). His nickname was The King for a reason. Arnie was a bigger than life figure and backed it up with his amazing career. Ben Hogan and many other's doubted Arnie in his young career but he proved them all wrong by taking the torch from them and putting this beautiful game on the map during the television era. Arnie won 7 major championship's from 1958-1964 which was a short span to win major's and that is why he doesn't crack my top 5. The King, like many others, fell one short of the career grand slam as well finishing second in the PGA on three different occasions. He made one final run at the age of 41 losing by 2 strokes to Dave Stockton. I am sure Arnie's Army was in full force that Sunday at Southern Hill's Country Club just as Phil's Army led by Ammy Hour co-host Mike McNamara will be this June at Shinnecock. Arnie's legacy will be eternal in the game of golf.
8. "The Squire" Gene Sarazen – His nickname was The Squire for a reason he won 39 times on tour and 7 of those were Majors. Gene completed the career grand slam with 3 PGAs, 2 US Opens, 1 Masters and 1 British Open. Standing at only 5'5 1/2 Gene made the most of his size and played a huge part in putting golf on the map in the United States early on. Learning from legends like Francis Ouimet and others these were the men who helped grow our game in the states, and we will forever be grateful for what they did for the game.
7. Harry Vardon – Harry may be the single reason people play this game today. Almost all professional golfers use the Vardon Grip to this day, where do you think it came from? 6 British Open's is still a record that stands and 1 US Open to add to that. Harry came from nothing and made the most of his life. This man battled Tuberculosis and was hospitalized later to come back and win more major championships. He was a freak of his time and nearly unstoppable. His irons may be the best ever; if he could putt he might have won 10 British Opens! Harry is no doubt a top 10 player of all time and without him influencing many American children in the early 1900's who knows what would have happened with the game.
6. "Slammin Sammy" Sam Snead – The only man with more PGA Tour wins than Tiger Woods. Slammin Sammy won 82 times on tour and 7 major championships (3 Masters, 3 PGAs and 1 British Open). Slammin Sammy was jinxed at the US Open like Phil, he finished second 4 times. Some of Sam's astonishing records also include oldest player to win an event on tour (52), first player to win in 4 different decades, oldest player to make a cut at a major (67). Age is just a number was certain for Slammin Sammy; his career is as impressive as anyone's, and he was a fantastic ambassador and personality for the game of golf.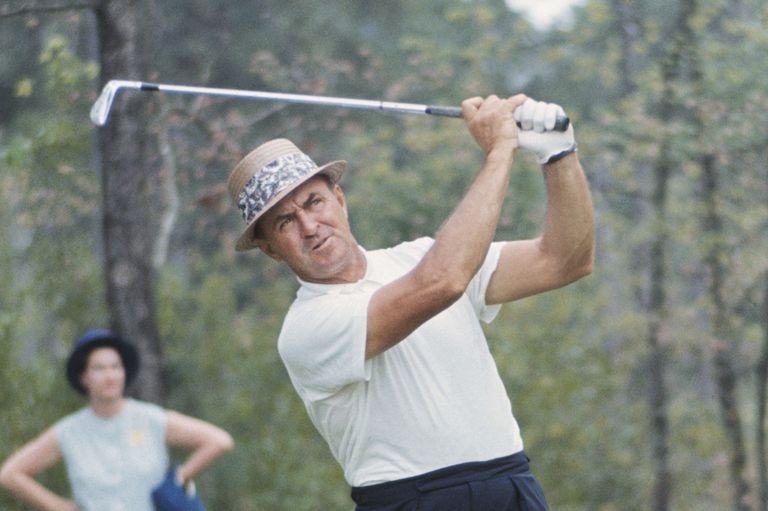 5. Bobby Jones – Bobby is to this day the only player to record a grand slam in a single season. The Grand Slam in his day was The US Open, US Amatuer, British Open and British Amateur. Bobby retired from the game at the young age of 28 and had 13 major titles by that time. Bobby, along with a couple others, may be the greatest influence of game the game has ever seen. Bobby is the creator of Augusta National and started The Master's Tournament, the biggest event on the PGA Tour each and every year.
4. "The Haig" Walter Hagen – 45 wins and 11 major titles (5 PGAs, 4 British Opens and 2 US Opens) — the third most ever how do you argue against him? Walter Hagen played in the same era as Bobby Jones and they once had a showdown  best Pro vs. best Amateur. The Haig won 12 & 11 in a 36 hole match play setting. The Haig never completed the career grand slam because The Master's wasn't created until his later years, so we have to think if it was around he would have even more major championships and maybe match Jack and Tiger for career grand slams.
3. "The Hawk" Ben Hogan – I don't know if we have ever seen a man more addicted to the game than Ben Hogan. The Hawk was far from a natural, in fact Byron Nelson beat him all the time in his early years. The Hawk never quit, though; he was an absolute fighter and was known at the time to have a perfect swing. 64 wins and 9 major titles (3 US Opens, 2 Masters, 2 PGA and 1 British Open). He is another member of the career grand slam. Byron and Ben could have been the greatest rivalry the game has ever seen and if Byron stuck around in the game longer who knows what could have happened; but, Ben's records stand out to anyone looking. He is without a doubt a top 5 golfer all time, and that is why he sits at number three for me. Ben one time said, "As you walk down the fairway of life you must smell the roses, for you only get one round." Definitely some words to live by.
2. Tiger – The toughest battle of them all Jack vs. Tiger but 18 beats 14.  Tiger has 79 PGA tour wins, 6 more than Jack. Tiger (like Bobby, like Byron) had an opportunity to become the greatest golfer ever, but with injuries and personal problems getting in the way it looks as if he will never catch Jack. Tiger and Jack stand alone winning the career grand slam 3 times over. There was a time where people thought Tiger would win over 100 tournaments and 30 majors, but now we just love to see him competing. If Tiger wins 2 more he may have the nod for me over Jack, but 4 majors is too many for me to throw him above The Golden Bear.
1. "The Golden Bear" Jack Nicklaus – 18 majors, 19 second place finishes in majors, 49 top 5 finishes in majors, in the 1970's he finished outside of the top 10 just 5 times in major championships. To add to all of that, he won 73 times on tour. The Golden Bear is The GOAT for a reason. Jack went against Arnie, Gary Player, Tom Watson , Lee Trevino, and even caught Ben Hogan at the end of his career. Jack pounded so many of the greats and even at the age of 46 he stepped foot at Augusta going against Norman, Seve, Faldo, Tom Kite and made his miraculous charge to win the 1986 Masters. Jack finished in 6th place at 58 years old at Augusta. His records stand alone — a powerful hitter and arguably the greatest putter ever. I just cannot put anyone ahead of The Golden Bear. He, in my mind, has the greatest career ever.